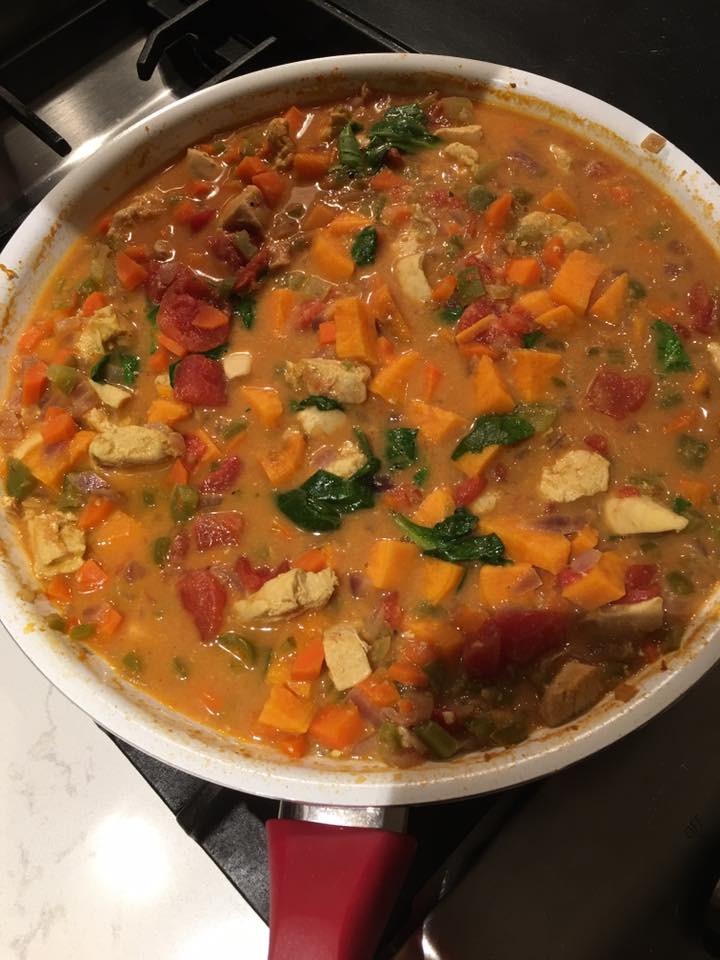 This popular African dish is usually prepared with chicken, but we've used super nutritious edamame instead. In addition, canned tomatoes, sweet potatoes and spinach infuse it with fiber, protein and antioxidants. Serve on rice for a healthy main dish.
1 tablespoon olive oil
1 medium red onion, finely chopped (about 1 1/2 cups)
1 medium green bell pepper, finely chopped (about 1 1/4 cups)
1/2 cup chopped carrot (2 small)
1/2 cup chopped celery (1 rib)
3 garlic cloves, minced
2 tablespoons minced, peeled fresh ginger
1 tablespoon curry powder
1 (14 1/2-ounce) can diced tomatoes, drained
1 bay leaf
4 cups fat-free chicken or vegetable broth
1 (12 ounce) sweet potato. peeled and cut into 1/2-inch pieces
1 1/2 cups shelled edamame
1/4 creamy or crunchy natural peanut butter or almond butter
1/4 cup chopped fresh cilantro
1 (5 ounce) bag baby spinach leaves torn into bite size pieces
1/2 teaspoon salt
Coarsely ground black pepper
1. Heat olive oil in a 4-quart saucepan or Dutch oven over medium heat. Add onion, bell pepper, carrot and celery; saute until soft and translucent, about 5 minutes.
2. Add garlic, ginger and curry powder and saute until fragrant, about 1 minute; do not brown garlic. Add tomatoes and bay leaf; cook, uncovered until tomatoes are slightly reduced, about 3 minutes.
3. Add broth and sweet potatoes and bring to a boil. Reduce heat to low simmer about 8 minutes. Stir in edamame and peanut butter until combined. Cook until thoroughly heated, about 2 minutes. Stir in cilantro and spinach until spinach wilts. Season with salt and pepper. Serves 8.
Per (1-cup) serving: 190 calories, 8g fat, 11g prot., 21g carbs., 5g fiber, 560 mg